Inclined Platform Lifts for Residential and Commercial Applications
Make your home or business more welcoming to those with limited mobility. The Inclined Platform Lift is a complete accessibility solution for facilities that have limited space and budgets. Each rail is custom manufactured to the exact contours of your stairway whether
Straight
Curved
Spiral
Multiple Flights
Residential or Commercial Applications
Whether you want to install a lift into your home or business an Inclined Platform Lift allows wheelchair users access to multiple levels without the need of constructing a hoist way.
Safe
Comfortable
Complies with ADA Accessibility Regulations
Manufactures:
Inclined platform lifts provide an accessibility solution for people in wheelchairs or those who have difficulty climbing stairs. These inclined platform wheelchair lifts are custom designed and manufactured for each individual project and are suitable for indoor or outdoor applications. An inclined platform lift replaces the stairlift's chair with a platform which allows it to accommodate wheelchairs easily.
American Home Elevator sells and services residential inclined wheelchair platform lifts as well as commercial inclined platform lifts to residences and businesses in Ohio. AHE's inclined wheelchair platform lifts provide safe and reliable access up and down stairways for persons with physical disabilities.
Inclined platform lifts from American Home Elevator can be installed in existing stairways with minimal modifications, with the track either wall mounted or installed on optional support towers. A unique design allows the lift to be "folded" neatly out of the way when not in use, leaving the stairway clear for pedestrian traffic.
Make your office or business completely wheelchair accessible by installing an inclined platform lift from American Home Elevator. This lifting aid meets ADA accessibility regulations and is designed to be installed with little modification to the buildings existing structure. There is an increasing demand for public areas to become more accessible. Our inclined platform lifts are customized to fit your specifications and the surroundings.
Inclined platform lift is the answer to "readily achievable" accessibility for schools, churches, offices, hotels/motels, restaurants, shopping centers, retail outlets and other public or civil facilities.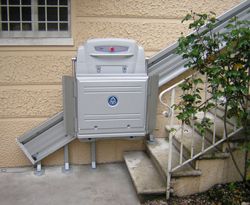 Indoor Residential Vertical Platform Lift Folded