Elevators for Public Use and Commercial Buildings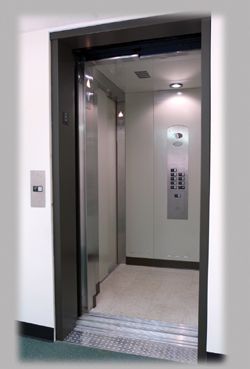 American Home Elevators has the experience to install commercial elevators. A Commercial Elevator from AHE is highly adaptable during a home remodeling project or easily incorporated into the construction of new multi-level commercial or public use building.
Commercial Applications:
An intensely competitive business economy dictates that today's business owner demand efficiency and cost effectiveness from all aspects of the business while making their facility accessible to all.
Solid construction and proven reliability
Avoid lifting heavy, bulky items up and down stairs
Economic solution for moving material and people from floor to floor
Commercial Elevators Offer:
Safety
Convenience
Efficiency
Effectiveness
Profitability
Manufactures we Represent:
Savaria
Canton Elevators
Custom Elevator
The American Home Elevator & Lift Quote & Installation Process
Call for quote 800-882-1987 or submit a quote online
Our scheduling team will schedule site visit
A quote for equipment / installation prepared and send to client for approval
Depending on the build out our team or the client contacts a qualified contractor for hoist way construction
Client returns approved order, deposit, and drawings
Equipment arrives at our warehouse
Our team schedules install
Equipment installed
Final walk through and sign off with client and/or contractor
Demonstration of equipment operation and maintenance with client and/or contractor
Standard Features:
One (1) Year Limited Warranty
950 lb. Capacity
Auto Lowering Emergency System
Travel up to 50 feet
Travel speed of 40 ft. per minute
3/4" sturdy cab walls
(7 ply custom cabinet grade material)
Aluminum anodized scissor gate or accordion style solid vinyl gate
Standard interior cab color choices:(Pre-finished Birch or Oak and Maple)
Solid matching wood handrail
Recessed lighting
Single integrated car operating panel with built in phone cabinet and emergency
Meets or exceeds all ANSI A17.1 National Safety Codes for Elevator Safety
Optional Selections:
Woods other than standard
Additional gates
Custom gate
Oversize cab
Over height cab up to 8'-0"
Variety of Custom Cabs
Observation glass panel inserts
750 lb. Capacity (50' - 0" max.) (As necessary by Code in certain areas)
Mirror w/ hardwood trim
Halogen downlights
Keyed hall station
Remote diagnostics and monitoring
Auto homing / auto light timer
8'-0" height
Oversize cab up to 15 sq. ft.
Silver, Black or Bronze Tone
scissor gate
Vinyl accordion gates to match
Clear accordion gates
Hardwood accordion gate
Power gate operator
Flat bar or cylindrical metal handrails to match
Keyed stations for security
Facilitate a design that is made to fit your needs through a long list of:
Car Options
Capacities
Car Sizes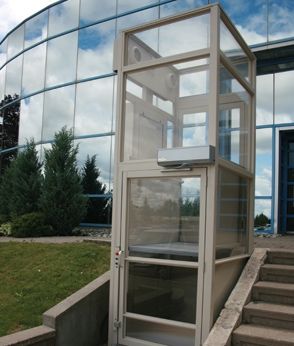 Enclosed Vertical Platform Lift
(We can provide quotes for Ohio installs only.)
When located in modern structures, including both commercial and private
buildings, commercial elevators can connect multiple floors and access points.
Efficient, quiet and dependable – a commercial elevator offers
today's business owner more options.