Residential Elevator Installation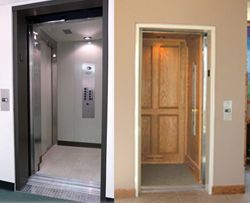 Affordability - Most people when they think about residential elevators think, too decadent, out of reach or that only a millionaire could have one. In reality, a home elevator is right in line with the cost of new kitchen cabinets.
Resalability - The more accessible the home, the more interesting it will be to a wider variety of possible buyers. Accessibility is a memorable and desirable feature that will separate and elevate your home from the others.
Convenience - Multi-level homes are becoming even more popular as they offer additional square footage without losing acreage. However the idea of moving laundry, groceries, luggage, or even yourself up and down stairs day after day, often make you

re-think your dream home plans. We think that you should have that home of your dreams by adding a Residential Elevator.
Elegance - These elevators are custom built to your specifications, which will allow you to express your home's unique character and your personal style. Invest in a Residential Elevator to take you to any level of your home with elegance and ease.
The American Home Elevator & Lift Quote & Installation Process
Call for quote 800-882-1987 or submit a quote online
Our scheduling team will schedule site visit
A quote for equipment / installation prepared and send to client for approval
Depending on the build out our team or the client contacts a qualified contractor for hoist way construction
Client returns approved order, deposit, and drawings
Equipment arrives at our warehouse
Our team schedules install
Equipment installed
Final walk through and sign off with client and/or contractor
Demonstration of equipment operation and maintenance with client and/or contractor
We serve and install these authorized manufacturers
Inclinator Company of America
National Wheel O Vator
Savaria Concord, Inc.
ThyssenKrupp Access
Waupaca Elevator Company, Inc.
Standard Equipment Features
One (1) Year Limited Warranty
950 lb. Capacity
Custom measured and fit to your hoistway
Auto Lowering Emergency System
Travel up to 50 feet
Travel speed of 40 ft. per minute
3/4" sturdy cab walls
(7 ply custom cabinet grade material)
Aluminum anodized scissor gate or accordion style solid vinyl gate
Standard interior cab color choices:(Pre-finished Birch or Oak and Maple)
Solid matching wood handrail
Recessed lighting
Single integrated car operating panel with built in phone cabinet and emergency
Meets or exceeds all ANSI A17.1 National Safety Codes for Elevator Safety
Optional Selections
Woods other than standard
Additional gates
Custom gate
Oversize cab
Over height cab up to 8'-0"
Variety of Custom Cabs
Observation glass panel inserts
750 lb. Capacity (50' - 0" max.) (As necessary by Code in certain areas)
Mirror w/ hardwood trim
Halogen downlights
Keyed hall station
Remote diagnostics and monitoring
Auto homing / auto light timer
8'-0" height
Oversize cab up to 15 sq. ft.
Silver, Black or Bronze Tone
scissor gate
Vinyl accordion gates to match
Clear accordion gates
Hardwood accordion gate
Power gate operator
Flat bar or cylindrical metal handrails to match
Keyed stations for security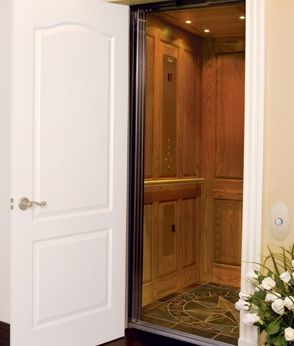 90 Degree Panel Upgraded Cab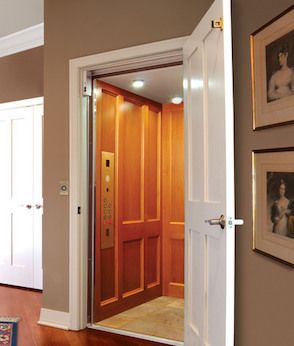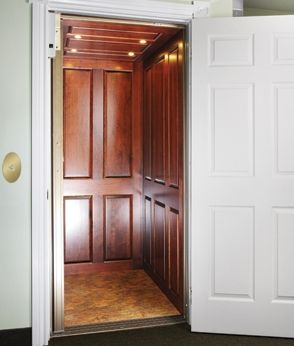 Remodel / Retrofitted into Existing Space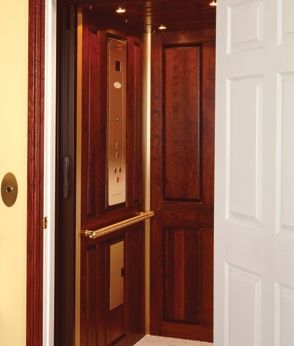 Winding Drum Drive System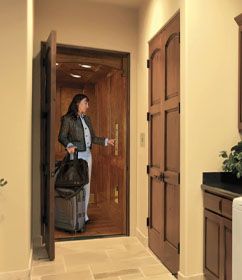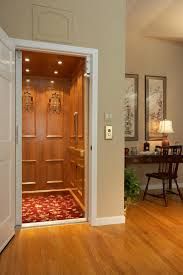 Raised Panel Upgraded Cab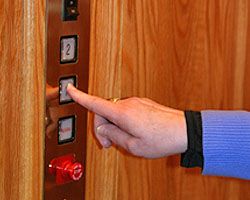 Many Operating Panel Options
The experienced professionals at the American Home Elevator and Lift offer sales, installation, service and inspection of high quality elevators and lifts. We make accessibility possible regardless of age or unique situation. Call us today to learn more about our innovative products and why our team has the area's best reputation for providing outstanding service to meet your needs.