Featured: Savaria Home Elevator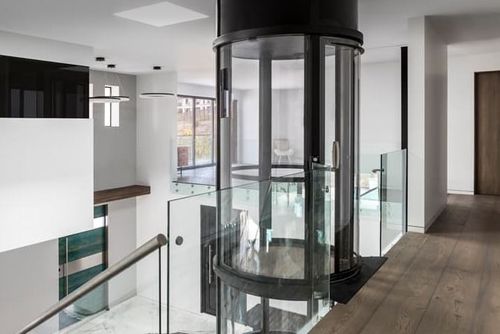 Savaria Vuelift
An extraordinary home elevator, the Savaria Vuelift is a panoramic glass or acrylic lift with integrated hoistway. Offered in a round or octagonal shaped design, the Vuelift offers great flexibility for placement in the home due to its 360 clear construction - beautiful even in the center of a room, attached to a balcony or mezzanine, or in the center of a spiral staircase.
A truly extraordinary lift for those who appreciate luxury on the next level. The Vuelift panoramic glass elevator with integrated hoistway is available in a round or octagonal profile, and in configurations to suit virtually any architecture.
Panoramic glass home elevator with integrated hoistway
Choose from round or octagonal profile
Reliable winding drive with aircraft cables for a smooth, stable ride
Services up to 6 stops over a maximum travel distance of 42.5'
Capacity up to 950 lb for glass models, 840 lb for acrylic
Black, silver or white powder coat as standard; custom colors also available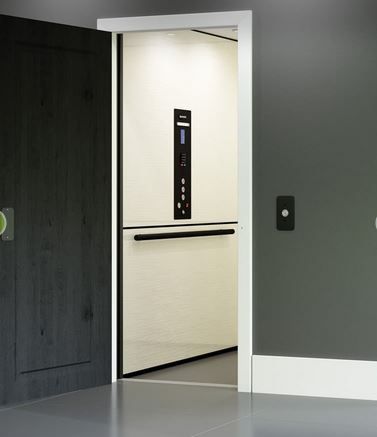 Traditional Hoistway Elevators
Savaria makes a range of elevators for residential use including the new Zenith home elevator featuring an ultra-quiet drive system with machine roomless option.
Our top-of-the-line traditional home elevator; based on our commercial-grade Orion MRL elevator, the robust Zenith offers the finest in ride quality with whisper-quiet operation
Unique geared traction counterweight design requires only a small space in a closet* for components, so a machine room is not needed
Multiple cab sizes available with capacity up to 1400 lb, code permitting
Services up to 6 stops over a maximum travel distance of 50' (up to 60' in some regions)
Openings can be configured for same-side, straight-through or 90º entry and exit, depending on the layout of your home
We also offer the Savaria Infinity, with smooth riding hydraulic drive and our best-selling Savaria Eclipse elevator with its chain drive system. Our traditional elevators are fully automatic and operate with the touch of a button. All of these products offer the same wide selection of finishing options for the elevator cab interior, operating fixtures and doors or gates.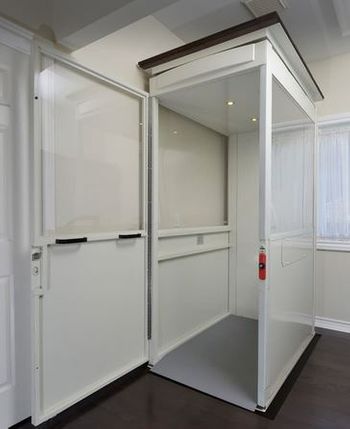 A Simple Through-the-floor Lift
The Savaria Telecab is an accessibility lift that can service two floors. The enclosed cab travels on a tower that houses the motor and drive, and the tower is secured to a support wall. With a simple floor cut-out, the lift operates up and down with constant pressure controls without the need for a constructed hoistway. Ideally suited for accessibility purposes when a traditional elevator cannot be accommodated, the Savaria Telecab is offered for a 500 lb capacity, or for up to 845 lb with the Telecab 17 model.
Space-saving through-the-floor accessibility lift, built on the same drive system as the popular and robust Savaria V-1504 wheelchair lift
Serves 2 stops with up to 23' of travel; capacity of 500 lb to accommodate a passenger with mobility device (for 845 lb capacity, see the Telecab17 home lift)
Non skid platform with gentle slope threshold for easy access of mobility device
4 cab sizes to choose from; custom sizes also available
Operates by continuous pressure buttons; sensor to stop the unit if it detects an obstruction in either direction
Installation requires minimal construction; no hoistway required
Enclosed drive tower keeps mechanical components safe and out of sight
Full height flush door with grip handles, interior lighting inside 78" (1981mm) height cab
Savaria Home Elevator Models
The experienced professionals at the American Home Elevator and Lift offer sales, installation, service and inspection of high quality elevators and lifts. We make accessibility possible regardless of age or unique situation. Call us today to learn more about our innovative products and why our team has the area's best reputation for providing outstanding service to meet your needs.