Limited Use/Limited Application Elevators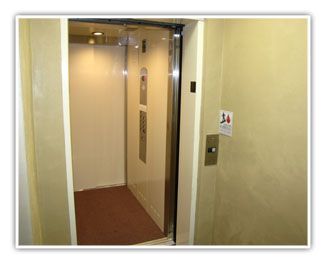 The Limited Use / Limited Application (LULA) elevator was developed to provide an additional type of vertical transportation for today's accessibility marketplace.
The LULA has the look and feel of a large commercial elevator but on a smaller scale and lower cost.
Create the Elevator that you want with the features that fit your facility:
Configurations
Sizes
Fixtures
Finishes
The LULA elevator provides the functionality of a commercial elevator with the elegance and warmth of a residential elevator.
Manufactures:
National Wheel O Vator
Savaria Concord, Inc
Custom Elevator Manufacturing Company, Inc. At the American Home Elevator Company, we pride ourselves on providing safe, economical residential elevators and other lift products that make life easier for the disabled community. We know how important accessibility is to everyone and we work hard to present the best and most practical solutions to our clients.
For more than 30 years, the professionals at the American Home Elevator Company have worked with families, individuals, companies and organizations to address their accessibility solutions.
We offer lift products that are perfect for many different environments. Our LULA (Limited Use / Limited Application) elevators are designed to meet the needs of public buildings to bridge the gap between vertical platform lifts and commercial freight or passenger elevators. LULA elevators are often used in churches, lodges, clubs and other small buildings.
The Limited Application elevator is the affordable answer to overcome architectural barriers in churches, meeting halls, lodges, and clubs. A LULA elevator will fit into a space smaller than a commercial elevator and is adaptable to existing conditions in most locations. The standard car size is eighteen square feet, 3'6" wide X 5'0" deep, with optional car sizes available.
Custom interiors and automatic car doors are available to complete your elevator package. Automatic controls are provided for easy operation and a smooth ride. Electromechanical interlocks prevent elevator movement while the doors are open and also prevent hallway doors from opening while the car is not at a landing.
For more information on the stair lifts, residential elevators or our other lift products sold at the American Home Elevator Company, give us a call today at 800-882-1987 or email us at john@ahec-oh.com.