Straight & Curved Residential Stair Lifts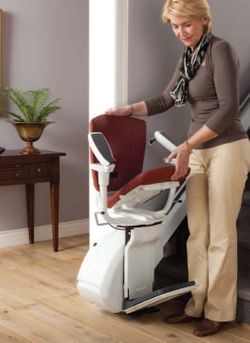 We can accommodate every stairway shape, size, angle, and on either side of the staircase.
With a stair lift, all floors in your home are readily available to you without requiring drastic changes to you existing home.
Safe
Easy to Use
Affordable
Simple Long Lasting Durability
Quiet Comfortable
Installing a stair lift in your home helps restore access, safety, and peace of mind. American Home Elevator designs stair lifts to fit a variety of stairs including straight stair, stairs with a platform and spiral staircases. Determine which model is the best option for you.
Products We Offer
ACORN Stairlift
Savaria Concord Inc.
ThyssenKrupp Access
What to Consider When Choosing a Stair Lift
Dimensions and House Design Considerations
Stairwell Measurements, Size and Shape
Curved versus Straight stairwell
Features of the Carriage (Seat)
Cost and insurance reimbursement
Purchasing versus Renting a stair lift
The Two Types of Stairlifts Include:
1. Straight Stair Lift
The lift for a straight flight of stairs goes up and down in a straight line. It is not able to turn around curves, bends, or travel across a landing. These options are affordable and installation and service is provided.
2. Curved Stair Lift
Curved stair lifts operate in the same way but accommodate stairs at a constant curve or angle. The curved stair lifts tend to cost more money due to their more complex nature, and the fact that most need to be custom designed and built.
The experienced professionals at the American Home Elevator and Lift offer sales, installation, service and inspection of high quality elevators and lifts. We make accessibility possible regardless of age or unique situation. Call us today to learn more about our innovative products and why our team has the area's best reputation for providing outstanding service to meet your needs. Contact us for a free cost quote today! (We can provide quotes for Ohio installs only.) For more information on the stair lifts, residential elevators or our other lift products sold at the American Home Elevator Company, give us a call today at 800-882-1987 or email us at john@ahec-oh.com.