The American Home Elevator Company Offers Installation & Service of Quality Lift Products
in Northern Ohio and in Northeast Indiana.
The American Home Elevator Company is locally owned and operated business. We are big enough to have a wide selection of quality products available for our customers, but we are small enough that we can take the time to know our customers personally and by name. Many of our customers have been with us for decades.
At the American Home Elevator Company, we have a full-time responsive office staff, as well as full-time technicians. This means that we never use subcontractors. It also means that quotes on installations and repairs are usually ready for the customer within a day after receiving the specifications for the project.
American Home Elevator Are Approved Dealers of:

Acorn Stairlifts
Stair Lifts


Canton Elevator
Passenger Elevators

Concord Elevators & Lifts


Harmer Mobility
Wheelchair Lifts, Stair Lifts, Dumbwaiters


Inclinator
Residential Elevators Dumbwaiters




Waupaca Elevator
Residential Elevators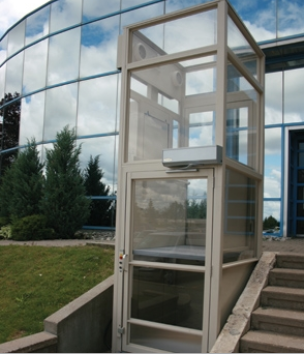 Integrity in products & service
Personal honesty and integrity are the foundation of our success. As the personal face of American Home
Elevator to our customers and in our communities, our employees accept responsibility for demonstrating true commitment to the highest ethical standards. We build loyal, long-term relationships with our customers by treating them fairly, meeting their needs, and earning their trust. These relationships, sustained by personal honesty and integrity, are the foundation of our success.
We value the many differences that make each of us unique and know that these differences help to advance our success. Simply put, we want to nurture a business environment that is responsive to all. This is an integral part of who we are as a company and as individuals.
For more information on the stair lifts, residential elevators or our other lift products sold at the American Home Elevator Company, give us a call today toll free at 800-882-1987, the Toledo/Coporate Office at 419-837-6596, the Columbus Office at 614-403-7911, the Lima Office at 1-800-882-1987, the Cleveland Office at 1-800-882-1987 or email us at karen@ahec-oh.com
Need An Elevator or Stair Lift Price Quote? Call 1-800-882-1987 or Fill Out Form Below
No hassle, no aggressive sales pitch, no robotic calls! We are a small business that takes pride in our craftsmanship and customer relationships.
(We can provide quotes for Ohio installs only)